Training Courses

The Heart Spaces course is a year-long, part-time program, held on Saturday afternoons online.
The course serves as professional development for experienced educators, providing practical and imaginative essences of Rudolf Steiner's insights into human development, and offering a range of experiential learning techniques, groupwork, discussions, facilitated processes, lectures and reflections.
You are provided with opportunities to develop skills in a variety of crafts such as dollmaking, puppetry, felting, silk dyeing, papercrafts, making moving pictures and shadow theatre. We regularly practise movement, singing, painting, drawing and claywork, and facilitate the development of creative storytelling skills.
There are eight sessions per term for four terms, 32 sessions of 3 hours each. Fees are $1680 per year ($420 per term).
For more information and to enrol please go to: https://www.heartspaces.com.au/early-childhood-courses
This email address is being protected from spambots. You need JavaScript enabled to view it. 0415 603 077
| | |
| --- | --- |
| Event Date | 01-01-2022 |
| Event End Date | 31-12-2022 |
| Capacity | Unlimited |
| Individual Price | Contact organiser |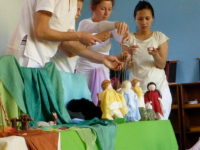 Melbourne Rudolf Steiner Seminar
This one year part-time course offers early childhood educators an inspiring professional development opportunity to develop new skills and deepen their understanding of Rudolf Steiner education for the 'vital years' of early childhood.
It is suitable for anyone interested in education, personal development and the arts who loves lifelong learning – everyone is welcome!
Our part-time courses are non-accredited (do not lead to a qualification within the Australian Qualifications Framework) providing a Certificate of Professional Development upon completion.
The Seminar offers a variety of courses: a full-time course, the Advanced Diploma of Rudolf Steiner Education, as well as part-time non-accredited certificate courses.
| | |
| --- | --- |
| Event Date | 03-01-2022 |
| Event End Date | 31-12-2022 |
| Capacity | Unlimited |
| Individual Price | Contact organisers |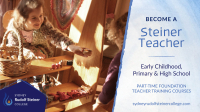 Sydney Rudolf Steiner College
For aspiring Steiner Teachers, Parents and Carers of young children
Led by highly regarded and experienced local and international tutors, this part-time annual course offers comprehensive Steiner early childhood training that supports the whole human being through a combination of online learning and in-person practical and creative seminars. 
The program supports the transition from mainstream teaching into Steiner education and anyone interested in gaining deeper knowledge on Steiner early childhood is welcome to enrol.
Sydney Rudolf Steiner College offers Foundation and Certificate Courses in Early Childhood, Primary and High School Teaching, as well as providing numerous short courses throughout the year for professional development and parent education.
| | |
| --- | --- |
| Event Date | 15-02-2023 |
| Event End Date | 29-11-2023 |
| Capacity | Unlimited |
| Cut off date | 01-03-2023 |
| Individual Price | Enrolment options from $1,080 to $3,400 |