Star Weavings e-newsletter is a benefit of membership of the Association.
The Australian Early Childhood Journal (Star Weavings) grew out of a need to strengthen communication between those working with the child under seven, both in Steiner Schools and the wider community. The weaving image was chosen to represent strength through a common foundation of Rudolf Steiner's indications (the warp threads) and enrichment and enlivening through individuals sharing of their work (the creative weft threads).

Star Weavings was founded by Susan Perrow and Julia Sherriff in Byron Bay, 1989. It continued for the next 26 years to provide two print issues per year to many subscribers in Australia and NZ (and a few other international folk). Over this time it grew and blossomed in the hands of four different editors - Susan Perrow, Paulene Hanna, Vicki Kearney and Jane Evans.

In 2016 the print version was suspended due to the dramatic increase in postal rates in Australia and time has been needed to seek a new direction. In the interim, an e-newsletter edited by Connie Grawert is helping to keep members informed of developments in Steiner/Waldorf early childhood education at home and overseas.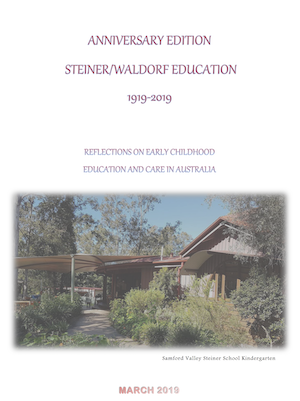 This e-newsletter is carrying the role of communicating the following:
some of the work and highlights in the regions around Australia
the achievements and plans of the committee (formerly known as the core group) on behalf of AARSECE members
the work of the International Association for Steiner Waldorf Early Childhood Education
notice of professional learning events in Australia and abroad
recent research, publications and links
contributions from members and friends.
Download Star Weavings 100 Years
Download Star Weavings September 2019